About MDQ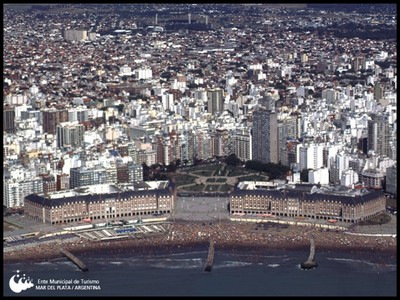 MDQ from the sky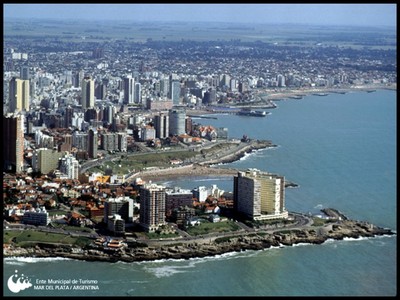 Panoramic view of Cape Corrientes

Webcam looking at MDQ's Plaza Colón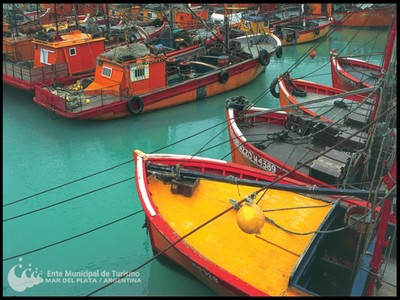 The port Mar del Plata is located about 400km south of Buenos Aires, Argentina. In the summer months, December through March, the beaches are crowded with Porteños on holidays.
Outside the summer months, the city is much less crowded. However there are 700,000 residents who live there year round. It is a very large city with lots to do, and not only in the summer months.
You can find a Google map with some of the important places in the city here
The common linguistic and social background of the city is that of the so called rioplatense culture.
Get in...
Manuel Tienda Leon offers a direct bus service from the Ezeiza Airport (EZE) for around 90 Pesos one way. The trip is less than 5 hours through the Argentine Pampas. This is highly recommended for anyone coming by plane.
About ten different companies offer long-distance buses with two or more frequencies a day.
Daily trains arrive from Buenos Aires. However buses are much faster and cleaner
Get around...
There are many local buses for moving around the city, with very cheap fares. You can find some information here
Taxis are very cheap, plentiful, and pretty honest. If you want to walk, Mar del Plata is perfect.
See...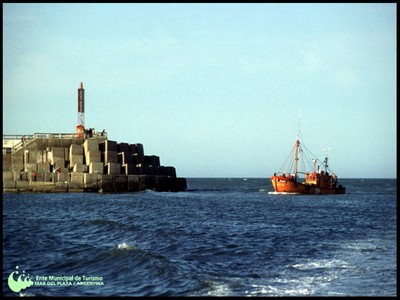 Escollera norte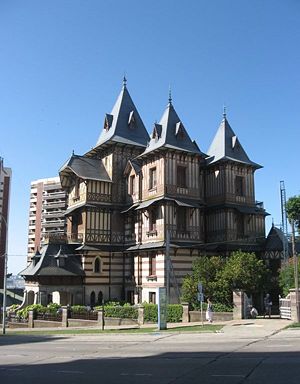 History of the city museum Main museums:
More info about museums here. There is also a page about architectural heritage.
Other places to see:
"La Rambla", "Las Recovas", la "Plaza seca" and "Plaza Colón".
"The Sea Lions". At the very begining of "La Rambla" there are located two sculptures of two sea lions, city emblems, made by José Fioravanti, between the Casino and the Province's Hotel.
"The Catholic Cathedral Church": announced "National Historical Patrimony" . It was inaugurated on the 12nd of February, in 1905.
Tower of the monk: was opened in 1904, and it's one of the most visited places on the coast. It's located at the pecipice of Punta Piedras, one of the services is a restaurant with a panoramic view for the tourists to visit.
"Banquina de Pescadores" or "fishing dock", located at the port of Mar del Plata. This is a typical place where you can appreciate colorful fishing boats. This little ships usually go fishing out to sea early in the morning and they come back by sundown with the catch of the day. By noon they sell off the fish directly from the fishing boats.
Camet Park, a widely open town park, fully wooded, with bars, fireboxes, games, horses and bikes rent, etc.
"Los Troncos": a colorful residential neighborhood, which name stays from 1938, when a Salta-original tycoon made built an apartment construction using trunks of quebracho and lapacho. It lately originated the edification of similar condition buildings all around it.
Monument in memory of Alfonsina Storni: close to the place where the novelist Alfonsina Storni found her death into the sea, killing herself on the 25th of October, in 1938. It's a simply memorial monument, made by the sculpture Luis Perlotti (1942). In front of the river, lays her figure sculpted into the stone with the verses of one of her poems, called "Dolor" (in English "Pain"), written by herself in 1925. There exists a replica in the Pantheon of the Artists of the "La Chacarita Cementery, in the center of the city Buenos Aires.
Punta Mogotes Lighthouse: built in 1890. It's located in a hill of 26 meters over the sea, with a total height of 35 meters, reaching about 55km distance long. It has a cylindrical conic conformation and a 154-step stairs. This lighthouse represents one of the oldest marine references of this side of the atlantic coast.
9 de Julio gas-powered generator: built in 1950 by the engineer José Zanier inside the port area, this thermoelectrial power station was one of the first in it's kind and introduced an original design with it's own pipeline interconnected with the YPF plant (Argentinean petrol manufacturer and treatment responsible) and underground tunnels which refrigerate the installations with fresh sea water, which stays over 5-10ºC even still in summer. It's still working and fully operating nowadays, underlining the success of this enterprising.
The Shed of Arts: an independent theater room, created in 1996, that produces plays entitled as "experimental", as for children as for adults and that has seen more than 150 independent plays and representations in it's first 10 years of life.
Do...
The Casino Central is one of the symbols of the city. It's construction was started on 1937, which would take part as the Casino's Rambla. The casino is one of the biggest in the world, and it houses the Auditorium Theatre.
Tango shows at Teatro Colón are fantastic and at only 15 pesos for Buenos Aires dance companies.
Enjoy mate, the very bitter and caffeinated partially-non-addictive hot drink. Buy a mate pot, thermos, yerba and ask for hot water almost anywhere. No one in MDQ leaves home without their mate.
Buy...
The actual currency favours anything you can buy. You may get, for example, leather jackets at U$S 40. Right now, 3 Argentinian pesos equals one dollar and less than one euro.
Eat...
Great fish. The "Puerto" (port) of Mar del Plata is a nice zone to know and try seafood, "rabas" and as many possibilities as you can.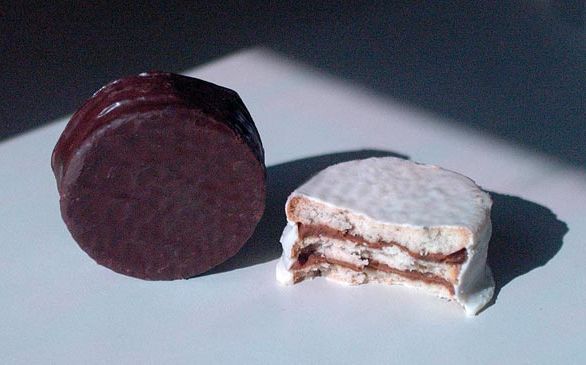 Alfajores "Alfajores" (a cake sandwich with "dulce de leche") are found all over Argentina, and go perfect with "cafe con leche". Some of the best are from the "Havana" brand, with shops that are found all around MDQ.
The Argentinians love "dulce de leche", which is a cream caramel, and put it on almost anything sweet. Medialunas (mini-croissants) and dulce de leche are a staple breakfast. Dulce De Leche Granizado Ice Cream (helado) combines chocolate flakes into caramel ice cream.
Parillas are always good choices and with the great exchange rate, eating steak almost every day is very possible. Sirloin Steak is referred to as "bife de chorizo", not to be confused with the sausage of the same name.
Another typical local dish are the "empanadas", they are stuffed pastries, made by folding a thin circular-shaped dough patty over the stuffing, creating its typical semicircular shape. The most common stuffings are meat and ham and cheese, but you'll find them stuffed with almost anything, even sweet stuffings. They are ideal for hack-not-so-snacks ;)
After you've entered a beef coma and can't take any more steak :-), there are several oriental "Tenedores Libres" (cheap buffet style restaurants, a.k.a. "Eat as much as you can", or "All you can eat") and a huge range of fresh seafood near the port area.
Drink...
Alem street is the heart of nightlife in the city. You will find countless pubs, bars, nightclubs in about a 6 square block area.
The trendy discos can be found along the Consitución Ave., for 30 pesos, "Sobremonte" is quite an experience. "Chocolate" and "Gap" also are a lot of fun on the right night.
In the Güemes street, you can find a more laid-back environment, with café concerts with live music.
Source...